Surge

:
The golf cart. Grown up.
Standard 120v outlet charger
Multiple colors and wrap options available
Just because you don't need a full-sized vehicle doesn't mean the full-sized features should cost extra.
Surge

is a climate-controlled, street-legal* neighborhood electric vehicle (NEV), making you master of the elements. Whether you are cruising the neighborhood, traversing the studio lot or crossing campus, Surge has you covered. Think of it as more car, less cart.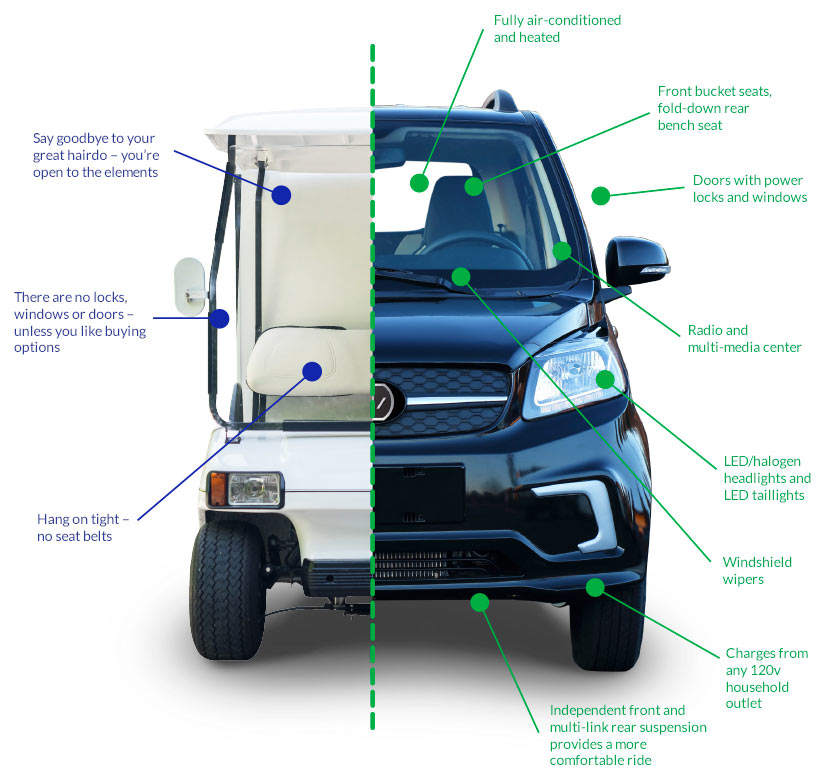 The Green4U Surge: Comfort + innovation for $13,950**.
See where Surge moves you

Around the neighborhood
With road-ready safety features such as three-point seat belts and turn signals, Surge can travel on roads posted 35 mph or less. Its fully-enclosed design, complete with climate control, means you'll get to your destination in maximum comfort.

Across the campus
The fleet landscape is changing. If you need a more sustainable transportation option for your corporate or college campus, Surge's all-electric design helps you meet compliance standards. Plus, it boasts 22 cu. ft. of cargo space with the rear seat folded down, providing ample room for hauling cargo.

Shuttling Around
Looking for cost-effective transportation around the public and private areas of your property? Whether you're looking to save on upgraded guest shuttles or security vehicles, Surge's battery, capable of travelling up to 50-miles on a single charge, keeps costs to approximately 1¢ per mile.
Product Features
Climate control
Power door locks and windows
Front bucket seats
Fold-down reach bench seats
Seat belts
Windshield wipers
Backup camera
Turn signals
Radio & multi-media center
Combination LED/halogen headlights and LED taillights
Aluminum wheels
Available colors: Black, Gold, Silver, Red, Yellow, White, Metallic Navy, Pearl White
Product Specifications
Max range: Up to 50 miles
Max speed: Up to 25 mph
AC input: 120v household outlet
Charging time: 4-12 hours
Seats: 4
Curb weight: 1782 lbs.
Interior volume: 108 cu. ft.
Max cargo capacity: 22 cu. ft.
(rear seat folded down)
Ground clearance: 6 in.
Electric motor: 5kW AC induction
Turning radius: 13 ft.
Battery type: Maintenance free lead-acid
Braking system: Vacuum-assisted hydraulic front disc/rear drum
Independent front suspension
Multi-link solid-axle rear suspension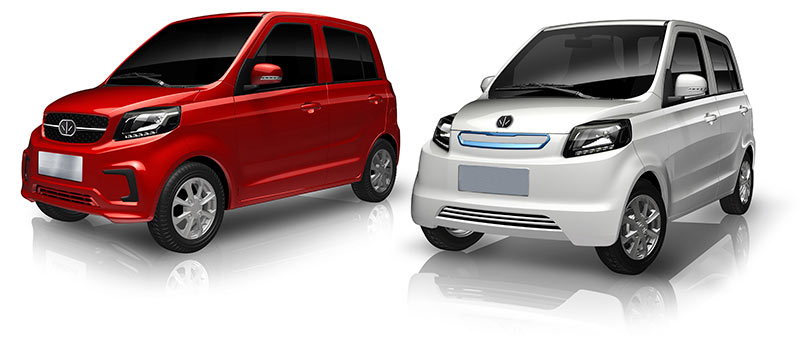 *Legal for use on roads with posted limits of 35 mph or less
**Pricing for U.S. customers
Interested in Surge?
Be the first to know about test drives and availability. Enter your email address below to join our mailing list.